Forever Evil #7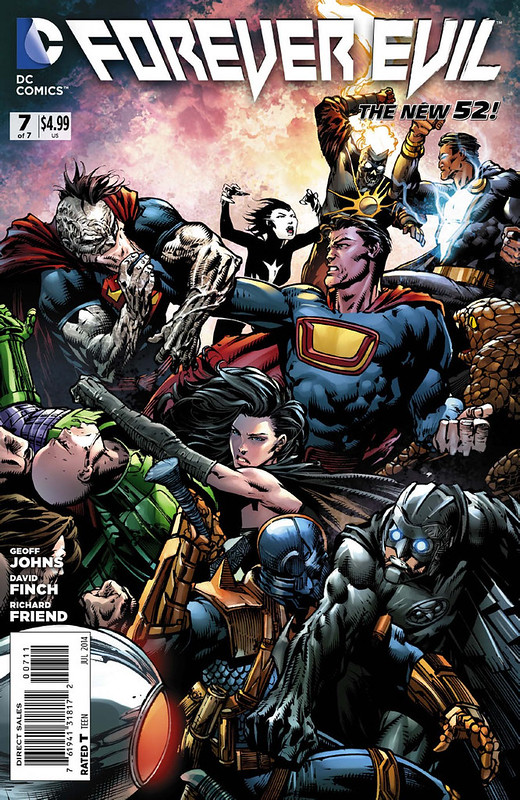 Forever Evil #7
Writer: Geoff Johns
Penciller: David Finch
Inker: Richard Friend
Colorist: Sonia Oback
Letterer: Rob Leigh
Cover Artists: David Finch, Richard Friend and Sonia Oback (regular cover), Ethan Van Sciver and Hi-Fi (variant covers A & B), Gary Frank and Brad Anderson (variant cover C), RC Stoodios, LLC (Robot Chicken variant cover)
Forever Evil is finally back with issue #7. Once again the cover adorned with a crowd of villains promising lots of action therein. There's the return of heroes from the brink of death, and the newfound fear of the Crime Syndicate for Alexander Luthor. And with him follow death.
But first things first: let's talk price. Forever Evil is normally $3.99 an issue which is already a high price. Forever Evil #7 ups the ante to $4.99. That's five bucks for a single issue. I caught that price increase when I went to pick the issue off the shelf. It weighed heavy on me. Even after reading the comic, there's no way I'd commit to reading a monthly series where each issue is $4.99. However, Forever Evil #7 is special. It's a 40 page issue instead of the normal 22. That's like getting two comics in one. Thus, in this case, it's worth it.
With those extra pages, the comic team is able to pack in a whole lotta story. Luthor and his team of villains fight the Crime Syndicate and finish the battle once and for all. A lot of people die in the fight, but a lot of people are saved, too. Either way, it brings a bunch of well needed resolution to the story. Yet it also opens the door for the next chapter: Darkseid.
Looking back at these seven issues, I really like how Lex Luthor was used as the throughline. He's portrayed as a very interesting character. The story starts by highlighting his villainous side. As it progresses, we get a glimpse of something else. In turns out Lex isn't all evil. Of course that doesn't mean he isn't a bad guy still, but it does make him even more fascinating.
The artwork in this issue is excellent. The panels exhibit lots of detail, color and action. The layouts work great and overall, it does a top notch job of visual storytelling. The panels seamlessly compliment the dialog and narration to present a very entertaining story.
I can't find any fault with Forever Evil #7. It wraps things up, packs in a ton of content, and earns the cost of that extra dollar on the cover. I give Forever Evil #7 a five out of five metal bikinis.
Reviewed By: Skuldren for Roqoo Depot.
Leave a Comment »
Blog at WordPress.com.
Entries and comments feeds.